If you liked the non-stop blizzard of attack ads. misleading disinformation, and outright lies– frequently sponsored by anonymous and/or shadowy organizations– you have the US Supreme Court's ruling in 2009′s Citizens United v. Federal Election Commission case to thank. This 5 – 4 ruling, which broke down along clearly partisan lines (strange enough for an institution purported to be non-partisan– and even stranger for the fact that the justices supporting this flagrant act of judicial activism were nominated ostensibly to oppose such activism) overturned decades of bipartisan legislation to limit the impact of big money on the political process. And if you liked this capital-fueled assault on your sensibilities this campaign season– you'll love what you'll be seeing next election should Romney be elected! But, leaving aside the potential for stacking the Supreme Court for decades– and perhaps generations– to come… the other big issue facing the voters this election is, of course, the economy.
TAXES and the Economy
One area where there is a very clear difference between the Obama and Romney plans for the economy is in the area of taxes. Obama has proposed allowing current tax cuts for those making over $250,000 per year to expire at the end of 2012, and is asking Congress to extend those cuts for all those earning less than $250,000 (which includes 98% of Americans).
Unless the House of Representatives takes action before January 1, 2013, taxes will go up on 114 million middle-class families. Nearly everyone in Washington agrees that's a bad idea. That's why President Obama is calling for – and the Senate has already passed–  legislation that will keep the middle class from paying thousands of extra dollars next year. Republicans in the House of Representatives, however, are refusing to extend middle-class tax cuts without also giving massive tax cuts to the wealthiest 2 percent of Americans. In fact, House Republicans have proposed their own tax plan that would actually raise taxes on 25 million families making less than $250,000, while giving families making more than $1 million an average tax cut of $160,000 next year.
source: The White House Blog
The Romney-Ryan plan includes a proposed across-the-board 20% tax cut for all Americans, a proposal Paul Ryan claims will be miraculously "revenue-neutral." But let's hear Ryan tell it in his own words to a decidedly friendly interlocutor at Fox News: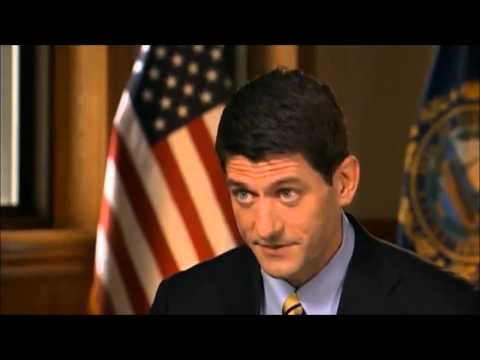 Bloomberg Business News reports:
If you [were] leave preferential tax rates for savings and investing (e.g., long-term capital gains and dividends) untouched, as Mr. Romney has said he would do, that leaves only $165 billion of available tax expenditures that can be eliminated from this same group of high-income earners once their marginal tax rates fall. That means there's an $86 billion shortfall — the difference between $251 billion in tax cuts and $165 billion in potential tax increases on this high-income group — that needs to be accounted for somewhere. By process of elimination that somewhere must be the rest of the population, the 95 percent of households earning less than about $200,000 annually. The taxes for this group, which Mr. Romney has called "middle income," would have to go up.
The Tax Policy Center paper that sparked this discussion found that Romney's plan couldn't work because his tax rate cuts would provide $86 billion more in tax relief to people making over $200,000 than Romney could recoup by eliminating tax expenditures for that group. That means his plan is necessarily a tax cut for the rich, so if Romney keeps his promise not to grow the deficit, he'll have to raise taxes on the middle class. Of course, this 20% "baseline" across-the-board tax cut is before Ryan's proposed gutting of the Capital Gains tax, which would lower the tax burden (for example) on Mitt Romney (whose income consists entirely of Capital Gains) from a reported 14.1% to a miniscule 0.82%!!! Revenue-neutral, indeed!
Income Tax vs. Capital Gains Tax
…over the past 20 years, more than 80 percent of all capital gains have gone to the top 5 percent of taxpayers and half have gone to the top one-tenth of a percent of taxpayers. It is the favorable treatment of capital gains that has helped drive income inequality to its current levels and that results in the 400 households with the highest income in the country paying such jarringly low tax rates. And Ryan wants to now eliminate the tax on this income entirely…
source: New Republic
The Grover Norquist – Koch Brothers Gang (aka Tea Party Republicans) claim that cutting the Capital Gains Tax– on top of yet further tax cuts on the wealthiest 1% income earners– will finally allow these "Job Creators" to, in fact, start creating some new jobs!!! This is all just more repackaged supply-side "voodoo economics" (in former President George H.W. Bush's words), and patently fraudulent under even a cursory examination. When Barack Obama took office on January 20, 2009, the Dow Jones Industrial Average (DJIA) closed at 7949. As of October 24 of this year, the Dow closed at 13077.34. Corporate profits have soared from a low of just over 600 Billion Dollars at the nadir of the 2008-09 Recession to just under 1.7 Trillion in April of this year.
If it was ever a question of available money (which it, of course, never was), we would be utterly inundated with jobs– but (again of course) we are not.
In the first place, the prime movers of Capitalist economies are individuals we call entrepreneurs. Furthermore,
there are… clear indications that it is middle-class families that tend to produce entrepreneurs. Recent research from the Kauffman Foundation finds that less than 1 percent of all  entrepreneurs came from either extremely rich or extremely poor backgrounds. The majority of entrepreneurs come from middle-class families, which they define as consisting of anyone from lower-paid white-collar workers with associates' degrees to professionals with graduate degrees.
–source: The Center for American Progress: The American Middle Class, Income Inequality, and the Strength of Our Economy
The top 1% are not the job creators (cite: Business Insider) then, but tend rather to "invest" their money in low risk securities, et al. (from Daily Kos):
Many of the very wealthy, or the 1%, have monies in trust funds, investments and off-shore bank accounts.  Of the top 400 wage earners in 2008, 88% did not have work for wages. The top 400 income earners in the U.S. earned an average of $270.5 million dollars in 2008.  And these 400 only paid 18.1% of their total income in taxes.(1) Only 8% of income came from salary and wages of the 400.  About 66% of income came from dividends and capital gains; both categories are subject to a tax rate of only 15%.(2) The Republicans have long shown a preference for those who have to work the least for the most amount of cash.  Recently, the GOP filibustered the Buffet Rule, making it unlikely for the rule to ever reach a vote.(3)  Surprising, since in a recent CNN poll, 72% of the population favored increasing the income tax rate for the very wealthy to 30%.
So where ISall this money, you ask?
IRS data suggests that, globally, U.S. nonfinancial companies hold at least three times more cash and other liquid assets than the Federal Reserve reports, idle money that could be creating jobs, funding dividends or even paying a stiff federal penalty tax for hoarding corporate cash. The Fed's latest Flow of Funds report showed that U.S. nonfinancial companies held $1.7 trillion in liquid assets at the end of March. But newly released IRS figures show that in 2009 these companies held $4.8 trillion in liquid assets, which equals $5.1 trillion in today's dollars, triple the Fed figure.
Reuters' David Cay Johnston reports:
This cash pool came to $16,700 for every man, woman and child in the United States, a 53 percent real increase from 2004, my calculations from IRS data show. Looked at yet another way, these companies had 11.3 percent of their assets in cash, or enough to pay their 2009 corporate income tax bills, which amounted to $148 billion, more than 34 times over. In short, U.S. companies hold vastly more cash than is needed to finance their operations. For workers, idle cash means idle hands and minds. With one in five Americans unemployed or underemployed, and real median wages in 2010 back down to the level of 1999, this is no time for capital to go on an extended holiday.
The question becomes: what is the effect of all this Dead Unused Capital? The Late Great President Franklin D. Roosevelt understood that an economy predicated upon a system of Supply & Demand requires a steady source of capitalized demand– meaning a decidedly broad economic base. This runs counter to the entire– patently fraudulent– pretext for "supply-side" economics: namely that capital magically appears in a mysterious and unspecified empyrean of mythical "Job Creators", which then rains down upon the unwashed masses as a sort of secular manna, enriching any and all individuals who are willing to sweat for it. This, in turn, runs counter to what we unwashed masses refer to as "Reality." Wealth is always and only created by the labor of individuals, of the masses, whether at home or abroad. Or in the words of Venture Capitalist Nick Hanauer:
Rich people don't create jobs, nor do businesses, large or small. What does lead to more employment is a "circle of life" like feedback loop between customers and businesses. And only consumers can set in motion this virtuous cycle of increasing demand and hiring. In this sense, an ordinary middle-class consumer is far more of a job creator than a capitalist like me.
The number one reason cited by companies for not expanding their manufacturing operations is that there is little or no demand for consumer goods. The reason for this, of course, is because so many Americans are out of work or living tenuously from paycheck to paycheck, that they cannot afford to purchase consumer goods. The genius of Roosevelt's New Deal lay in the fact that Public Works projects (such as the Tennessee  Valley Authority, or the The Works Progress Administration Federal Art Project, which produced– among other things– some of the most iconic images in the history of Photography) were used to kick-start an economy that had completely ground to a halt. This of course entails more government spending– not less. And the answer to where we can find a sufficient source of unproductive capital to employ for such an endeavor has been stated above: we can use just a small portion of the $5.1 trillion either sitting in low-yield, low-risk trusts or– as has been all too frequently the case in recent years– shipped offshore to shell companies and/or tax havens in the Caribbean or beyond. Surprisingly, a number of billionaires and Corporate CEOs support such taxes. These are individuals who understand that a healthy economy benefits everyone– not the least of whom are themselves! Much of the opposition comes from parties who seek, not so much to make money– but to monopolize an economy predicated on scarcity.
The only remaining argument against such a tax is the argument that if Capital Gains are taxed at a higher rate, American corporations will just move elsewhere. The fact is, many already have. (And who can forget how Halliburton's CEO appointed himself Vice President, started a major war on fraudulent pretext, siphoning tens of billions of dollars into his "former" company– and then demonstrated their patriotic fervor by fleeing to Dubai in 2007 after a Democratic Congress was elected, when they realized that no further No-Bid contracts would be forthcoming) Corporations that keep their money "at home" do so, not out of any sense of Civic Duty, but rather because they understand that moving their operations overseas would deny them the perceived benefits of remaining within the American Marketplace. Tax breaks that American corporations are already receiving to remain at home are frequently only used to a.) finance the movement of their operations abroad, and b.) finance share buybacks, and to pay dividends to their top shareholders.
One remedy for this problem is not further tax cuts (which rarely, if ever, are used for the purposes intended– but to eliminate existing tax breaks for offshore corporate holdings:
Since the income tax system began, Congress has authorized a tax on excessive accumulated earnings to limit damage to the Treasury — and the economy — when companies hold far more cash than their operations require. Without the accumulated earnings tax, corporations can become bloated tax shelters instead of engines of growth.

A business holding more cash than its operations reasonably require can be hit with a 15 percent levy under Section 531 of the Internal Revenue Code, on top of the 35 percent corporate income tax. The Tax Court even devised a mechanical test in 1965 for how much is too much.

Historically the IRS has levied only privately owned firms or publicly traded companies with few shareholders. But Internal Revenue Code Section 531 applies to all corporations. President Ronald Reagan signed Section 532 (c), which made that explicit, though with an exception for untaxed offshore profits.
To summarize (finally):
What we need now is a new New Deal to revitalize the American economy, put Americans back to work, and broaden the Capital Base of the American Market. Each 1% drop in unemployment equals 1.5 million new workers: consumers channeling their money back into the Economy, increasing Government Revenue through paying income and payroll taxes. The answer is increased spending rather than a continuation– and even extension– of governmental austerity, which clearly is not working. It is doubtful that Obama has the audacity– and he most certainly will not have the support in Congress– to pull off such a daring manoeuver, but we cannot go back to the sort of billionaire coddling that got us into this predicament in the first place.